THE FOALS OF MARY MELS MYSTERY ARE TOP NOTCH!
We are so very pleased with what Mystery is putting on the ground for us and for others! He is becoming more and more proven as the foaling seasons add to his foal numbers. He now has foals in many states, and the reports are fantastic! This is what the late Lee Zieglar had to say about Mystery after seeing him being ridden and at liberty on video tapes: "I can't say how much I like Mystery -- he is really a beautiful horse -- just sends shivers down your spine to look at him, he is so gorgeous. I wish I could get my hands on him to ride!"Lee is the author of the book, "Easy Gaited Horses", and was very well known in the gaited horse world. A few of Mystery's oldest foals are now being put under saddle and turning out to be stunning horses - like the Morgan stallion, Mystery Caramel, in Tucson, Arizona who is now doing 3-day eventing.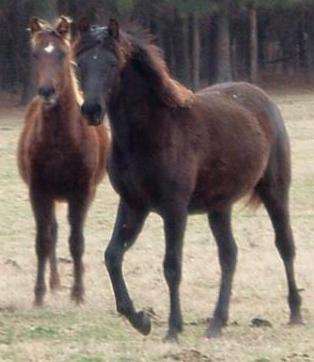 MYSTERY KARESS & LM MYSTERY ECLIPSE
The dark chestnut Morgan filly, Karess, is on the left at 6 months old. The black Morab filly, Eclipse, on the right is 12 months old. Eclipse is sired by Mystery, and out of the multi-champion Morab mare, Desiderata's Dawn. She is the second black foal that Mystery has sired.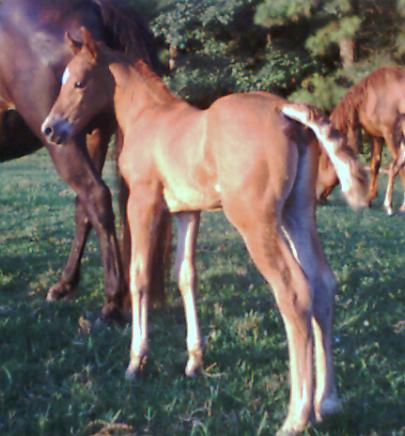 MYSTERY KARESS - Long awaited Morgan filly!
This is the Morgan filly, MYSTERY KARESS, by Mystery that was born July 6, 2003 out of our Morgan mare, Smanda's Sandi Jane (Kasey). She has her sire stamped all over her! She was only a few days old in this picture - look at that head and eye, and the muscling! And her tail is just full of white hair - when she shed her foal coat she came out very, very dark chestnut with an almost white tail. She is pictured at six months old in the above picture with Eclipse.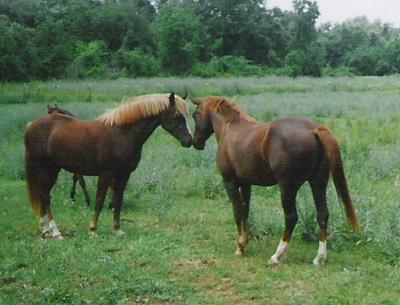 LM MYSTERY LADY & LM MYSTERY'S STELLAR DEBUTANTE
The 3 year old Morab filly to the right, "Debi", went to her first show at Stephenville, Texas, the end of June 2003 as a 2 year old. She was the first and only Morab to ever be shown at this facility. It was an Open show, so she was up against Quarter Horses, Paints, Palominos, Appys, etc., and in large halter classes. She was in the 2-4 year old classes, but most of the others were 3 and 4, not 2 like her. She lives *outdoors*, but the others were stalled show horses. The trainer told the owner not to expect any ribbons with these kind of horses and big entries. One class had 35 in it. Debi blew everyone away, including the trainer, and took 4th, 5th and 6th in her three classes! Needless to say, the owner is thrilled! Debi is out of the Morab mare, LM CLASSIC DEBUT, who sold in Jan. 2004 to Debi's owner. Debi's full brother, LM MYSTERY DENMARK, sold as a stallion prospect. Debi both gaits and trots. At five years old she now stands a solid 16 hands.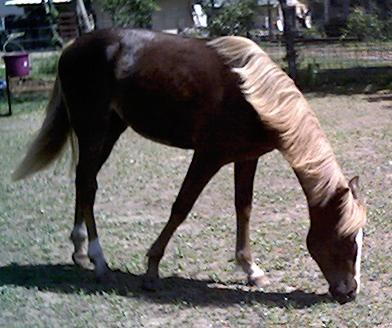 LM MYSTERY LADY
Pretty enough to eat! Sired by Mystery, this yearling Morab filly is out of the palomino Morab mare, LM Sky Lady. MYSTERY LADY is a chocolate chestnut with very, very flaxen mane and tail, and bold sabino white markings. She is owned by the same family in Texas who also own LM MYSTERY'S STELLAR DEBUTANTE. Mystery has sired several of these dark chestnuts with the strong flaxen. We never had this coloring before in our breeding program until we used him. Lady is also in the picture above with Debi as a two year old.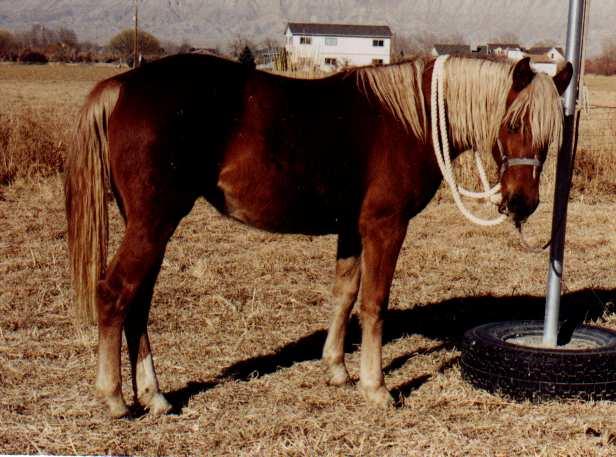 Beautiful Morgan Filly!
Here is another wonderful example of the dark chestnut with flaxen that Mystery can throw - this is the yearling Morgan filly, Lea, in Colorado. She was also strongly gaited like her sire. Sadly, a few years later she died from a freak accident before she was ever bred.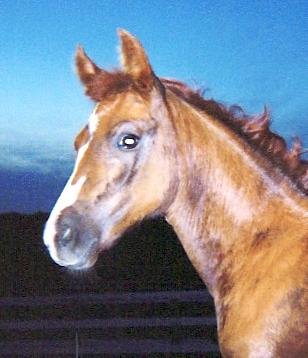 FREEDOM'S MYSTERIOUS RUBY
Pictured at just two months old, this stunning chestnut Morab filly, "Ruby", is sired by Mystery and out of a Morab mare in New Jersey. See those sabino markings on her face?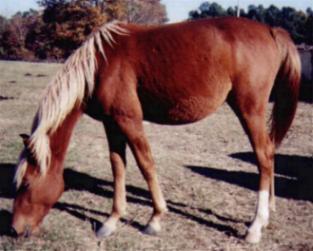 LM MYSTERY SHILOH
This Morab filly, pictured as a yearling, is by Mystery and out of the gray Morab mare, LM ARK-ONE SHAWNA. Shiloh shows the flaxen, too - and the older she gets, the lighter it's getting. Her younger full brother, LM MYSTERY SHAWN, is doing the same thing. You cannot see Shiloh's face in this picture, but she has a very pretty star/stripe down her face. She's a very attractive girl as a five year old in 2006. She both gaits and trots.